Keep Your Members Informed During the COVID-19 Crisis
Direct Mail, Email and Social Media Posts Ready to Deploy within 48 Hours!
In this hectic time when credit union members are eager to know if branches are open, how they can access their money, how you can help them financially and more, it's critical to keep the lines of communication going.
Keep In Mind . . .
On average, only 30% of your members will open and read your emails
All members need to know how the credit union can help them during this critical time
Using a multi-touch approach will increase awareness exponentially
The time to reach out is NOW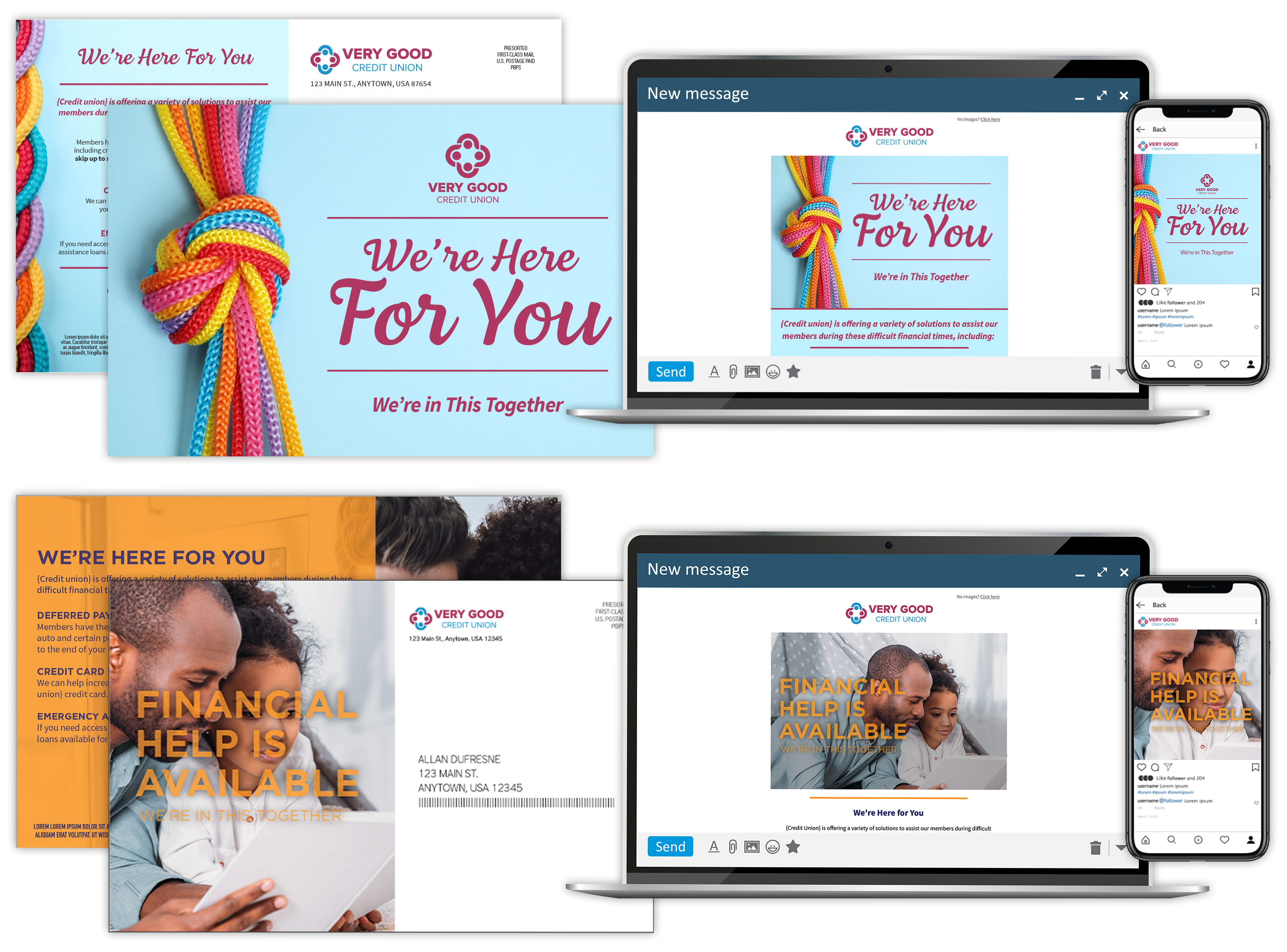 We've Made It Very Simple.
Our direct mail, email and social media designs are developed to be used individually or as a campaign, whichever you prefer. Simply complete the Quote Request Form and we'll get right back to you with pricing.
Once your signed quote is received we'll send you initial design proofs for review. You'll send us edits and your logo, and we'll update your pieces, get you a final proof to approve, and go into production. Your campaign will be deployed on the date you request – as soon as 48 hours from sign-off!
If you prefer a custom approach incorporating your credit union's own branding, we can do that too for a nominal cost. Simply indicate Custom Design on the form.
Pre-Developed Style 2: Photographic Lifestyle
Affordable and Easy to Budget.
Direct Mail
Our flat fee per piece for direct mail is ALL INCLUSIVE and includes printing, list management, mail prep, mailing and standard rate postage. First class postage is also available to an added fee. Price per piece is dependent on quantity.
Email
A very affordable flat price per record that includes the template design, list management, deployment and reporting.
Social Media Posts
Pre-designed social media posts that correlate with all other elements have been created as a bonus add in at NO ADDITIONAL COST For any client purchasing either direct mail, email or both. We have posts designed for use on Facebook, LinkedIn, Instagram and Twitter.
We'll Get It Done On Your Timeline.
To receive your quote, simply complete the Quote Request form and we'll be back with you shortly!
For more information contact Matrix Manager at 877-258-9037.
Matrix Manager, a leader in credit union member communications since 2003, is here to help you navigate member communications through these uncharted waters.